Discover more from The Message Box
A newsletter about political and message strategy
Over 53,000 subscribers
A Post-Debate Action Plan
Joe Biden did his job on stage, but what comes next is up to all of us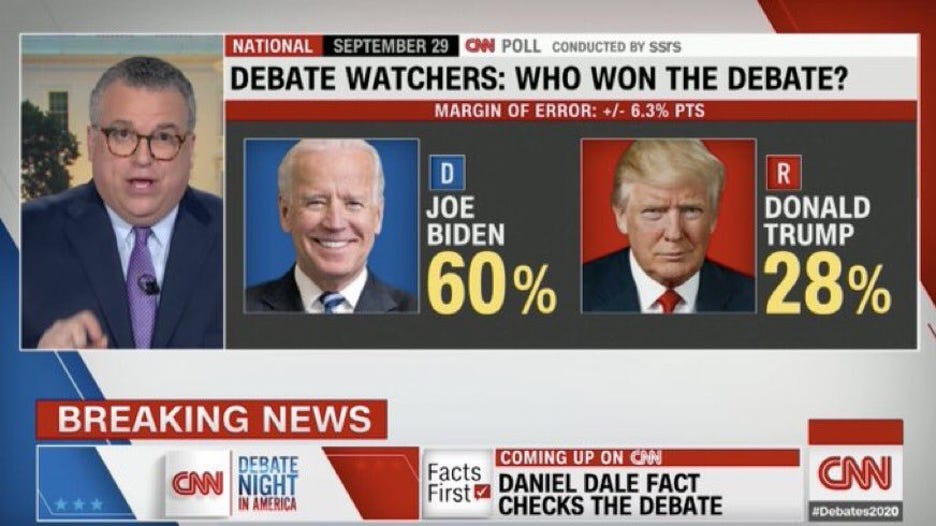 To call last night's debate a clusterfuck would be unfair to clusterfucks. Donald Trump turned in one of the worst, most incoherent debate performances in history. Chris Wallace's job certainly wasn't easy, but even with that in mind, he did a absolutely miserable job. Biden, on the other hand, should feel very good about last night. It wasn't a perfect performance, but he was steady, had some great moments, and kept his cool under nearly impossible circumstances.
The post-debate polls are unanimous: Biden won. As Fivethirtyeight wrote about the poll they sponsored with Ipsos:
Debate watchers were pretty decisive in their verdict of last night's performances: Only about one-third said Trump's performance was "somewhat good" or "very good," and 50 percent said it was "very poor." Biden's performance was more positively received, with around 60 percent saying they thought he performed well
For all of the feelings of exultation and relief about Biden's very strong performance, the ultimate political impact of Tuesday night will be determined by what happens on cable, the campaign trail, and Facebook over the next seven to 10 days.
The Battle to Shape Perceptions is Just Beginning
The preliminary ratings indicate that about 73 million people watched the debate on television last night. This is (understandably) down from the first debate four years ago. While Tuesday's debate was one of the most watched debates in history, the majority of voters did not watch it and will therefore be learning about the debate from the press and social media. This is an arena where Trump has a huge advantage. Republicans have a long history of utilizing their massive propaganda operation to drive the narrative in the post-debate period. Biden's very good performance could fade in the collective consciousness if Trump and his MAGA minions succeed in capturing the post-debate narrative.
Facebook is the most powerful media platform in the world. Prior to the debate, it was awash in misinformation about invisible ear pieces, which I assume was a not particularly clever attempt to square the circle between the Trump/Fox News portrayal of Biden as mentally deficient and the coherent and competent man they knew would show up Tuesday night.
The online Right responded to Trump's thumping by doubling and tripling down on the misinformation and conspiracy theories. On Facebook, the top ten link posts included three posts from Fox News, two from Trump, and two from Ben Shapiro. Washed up actor James Woods, who has found a second career as a MAGA grifter, shared a QANON post with his 2.6 Twitter million followers that falsely claimed a crease in Biden's shirt was evidence that he used a listening device during the debate. Laura Ingraham shared an out context quote from Biden about Antifa (Biden was quoting Trump's FBI Director).
The online assault from the Right was relentless. I am not sure how many blows they landed and Trump didn't help their cause by spending much of the day ranting about Jim Comey's Senate testimony and complaining that the Fox News moderator was biased against him. However, the flood of coordinated (albeit crazy) propaganda bespeaks the challenge that Democrats face in this election and beyond. The Biden campaign very smartly anticipated this problem and launched a massive digital advertising blitz the day after the debate. As Politico reported:
The Biden campaign's Wednesday digital ad buy includes homepage takeovers on many of the most popular sites on the web including the most expensive digital ad space of all — the YouTube homepage — which the Trump campaign held on Tuesday. The Biden campaign also bought the homepage ad space on AOL, Yahoo, CNN, Fox News, Pandora, Univision, Reddit, The Daily Mail, CBS Sports and more.
But there is more work to do and we can help them by being smart about how we engage in the post-debate online conversation.
How to Help
The period between the first and second Presidential debates is always treacherous territory. Joe Biden put himself in a strong position with his debate performance, but how this period goes is going to depend in part on all of us.