Discover more from The Message Box
A newsletter about political and message strategy
Over 53,000 subscribers
Biden's Oil Comment: A Gift, Not a Gaffe
The furor over Biden's comment shows the most people still don't get climate politics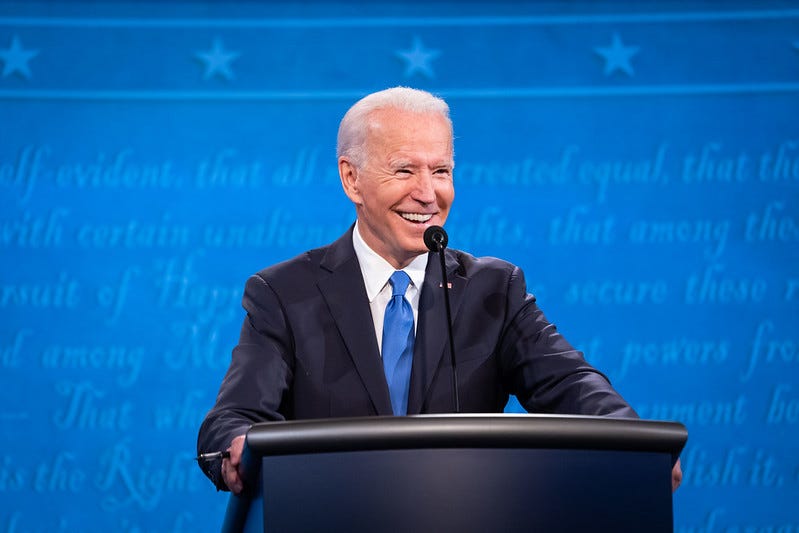 The 2020 Presidential Election has been the most interesting boring campaign in history. The last few months have been filled with moments of great drama like the President asking Americans to drink bleach, contracting COVID, and then asking his corrupt Attorney General to launch a phony investigation. Debates have been scheduled, rescheduled and then canceled. Yet, despite all of this noisy news, the race has been as consistent as a metronome. Biden led Trump in the public polls before the pandemic hit. He led him all summer as the pandemic raged. And he still leads.
This steadiness has sent some in the media — and the Trump Campaign — looking for the moment that could change the trajectory. During Thursday's night, Trump and the media thought they had their moment. Trump asked Biden "would you close down the oil industry?"
Biden replied: "Yes, I would transition."
The political Twitterati immediately started wondering if Biden had made a "gaffe." Fox News played their role as an arm of the Trump campaign and devoted a ton of coverage to this exchange. Otherwise sage political reporters speculated about the impact of this moment on Biden and Democrats up and down the ballot.
The focus on Biden's comment on oil as some sort of gaffe reveals a fundamental misunderstanding about the politics of climate in 2020.
What Biden Actually Said
Unsurprisingly, the coverage of this exchange has been a garbled mess weaponized by the Right Wing media. Here's what Biden actually said per the Washington Post:
Because the oil industry pollutes, significantly. … Because it has to be replaced by renewable energy over time, over time. And I'd stop giving to the oil industry, I'd stop giving them federal subsidies.
Biden was very clearly referring to ending federal subsidies for the oil industry. A long held, very popular, and substantively correct position. This was the position of the Obama-Biden administration. There is nothing scandalous or surprising about it.
A September Data for Progress poll found that 55 percent of voters support ending government subsidies for the fossil fuel industry, while only 26 percent oppose. This issue is a clear winner for Biden.
It's also not scandalous nor surprising that Biden said he wanted to transition away from the oil industry. His climate plan is very clear on this point and has been for months. There is nothing controversial about that position.
Moving away from the fossil fuels that are causing climate change is the consensus position among every credible scientist in the world. The idea that it would be a scandal to Republicans and some in the media helps explain why America is lagging behind the rest of the developed world when it comes to trying to save the planet on which we live. But if you are not persuaded by the morality or science of Biden's position, it's also good politics. A Morning Consult poll released yesterday found that 57 percent of voters — including 52 percent of independents and 41 percent of Republicans — support "phasing out the U.S. oil industry over time as the country transitions to using more renewable energy."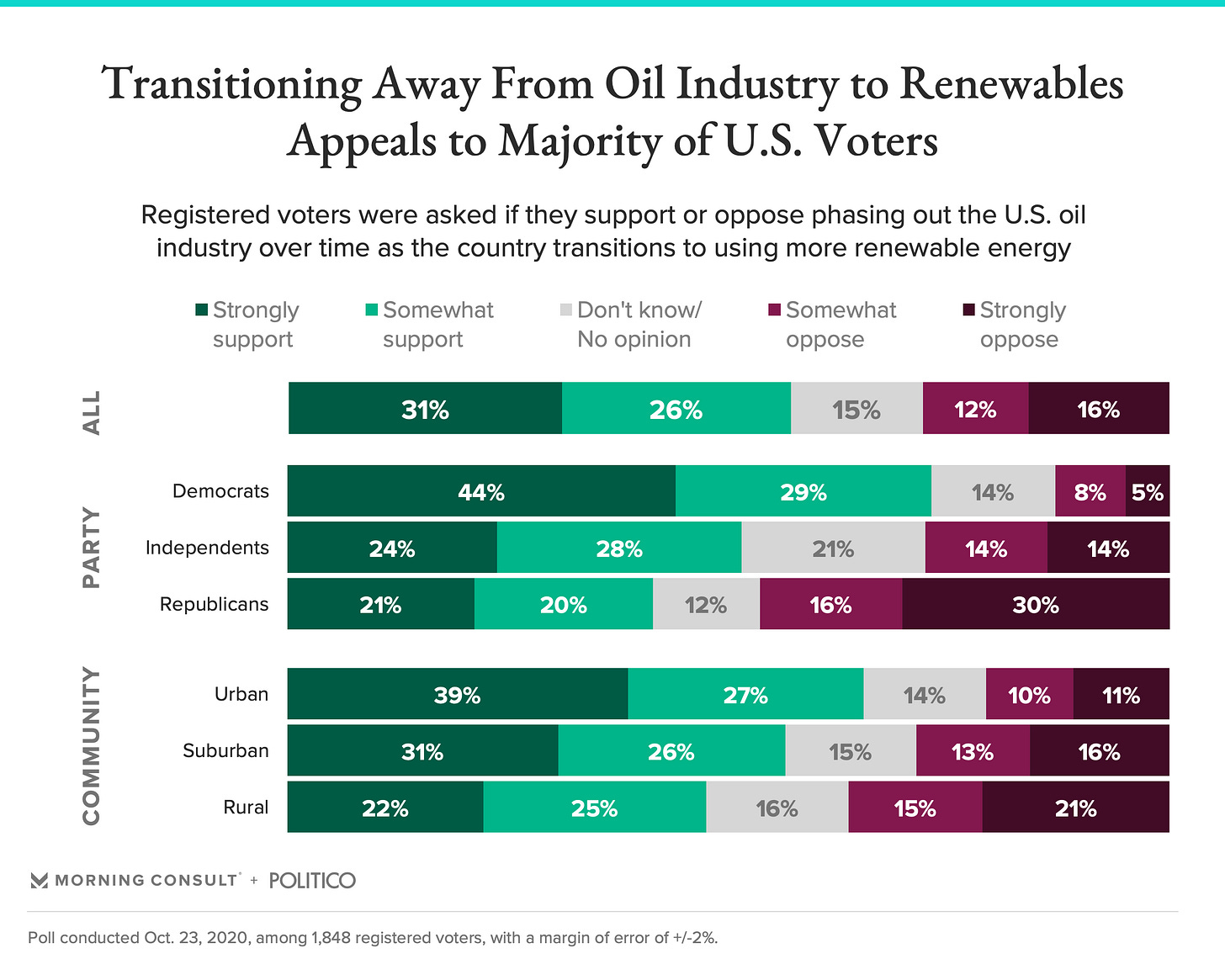 Trump and the Republicans are very clearly on the wrong side of the issue. Biden is on the right side.
A Focus on Climate is Good Politics
At the center of the obsession over the oil industry comments is an assumption that talking about climate change is bad politics. This is absurd and flies in the face of all of the polling.
Political conventional wisdom is often a lagging indicator. A lot of political observers view the current campaign through the prism of prior ones without updating their model for changes in circumstances and public opinion. Public opinion on climate change has moved a lot in recent years. The ability of Republicans and their special interest friends to demagogue wanting to save the planet dissipated a long time ago. Outside of Republicans in Congress, the vast majority of people believe climate change is real, that it is caused by human activity, and it is long past time that we did something about it.
According to a Pew Research poll taken last last year, more than two thirds of Americans think the federal government isn't doing enough to reduce the effects of climate change.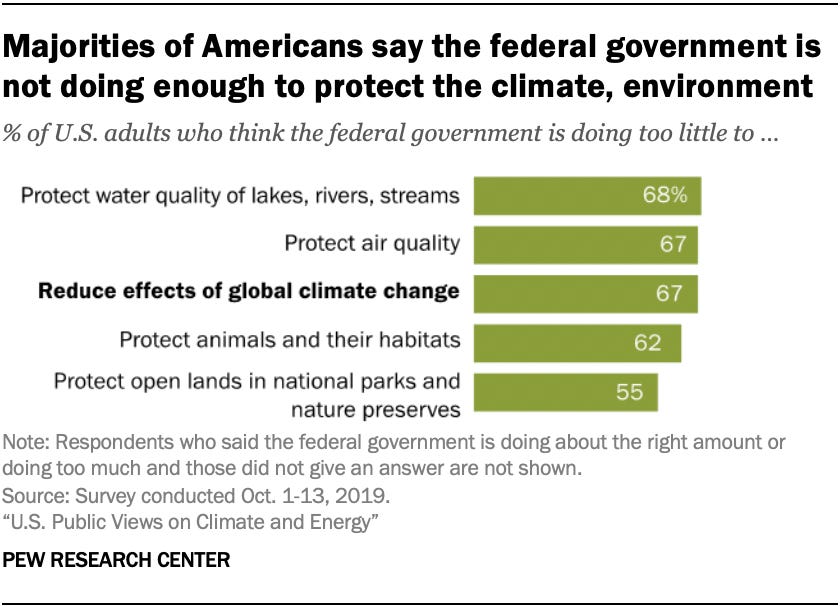 The voters that make up the one third that doesn't want to do anything about climate change were never going to vote for Joe Biden — or any other Democrat. How they feel about Biden's debate comment is entirely irrelevant to the election.
It is true that some Democrats running in red districts in oil-producing states like Oklahoma Rep. Kendra Horn may need to distance themselves from Biden on this issue. But that's okay too. Having a point of disagreement with a national Democrat never hurt a candidate running in a red district. I wish it wasn't necessary to do so in these isolated incidents (and it may not be), but let's figure that out on the first Wednesday in November.
Before the political media decides Biden just lost Texas, here's a little fact to upset their poorly researched narrative. According to climate journalist Eric Holthaus, "Texas now employs more people in renewable energy (254,000) than in oil and gas (162,000)."
A Gift, Not a Gaffe
Biden is in a very strong position, but young voters are the one group where he has real room to grow.
Guess what's the best way to get young voters fired up about Joe Biden?
Talking about Biden's Climate Change plan.
According to a poll of voters age 18 to 40 conducted by Change Research earlier this month, 41 percent of voters that reported lower motivation, 59 percent of Black voters, and 57 percent of Latinx voters said they were much more excited to vote for Joe Biden after learning about his big, bold plan to combat climate change. You can read more about the poll and the best messaging here.
If this little misguided media flare up leads to your friends and family asking you about the issue, here is content you can share with them:
An ad about climate change that his campaign ran in Michigan.

This sharable graphic from Crooked Media about Biden's climate plan.
If the Trump campaign wants to make Biden's climate change plan the issue for the rest of the campaign — great. It's a gift.