Discover more from The Message Box
A newsletter about political and message strategy
Over 53,000 subscribers
Welcome to Message Box
Welcome to The Message Box by me, Dan Pfeiffer. Co-host of Pod Save America, Former Senior Advisor to President Obama.
So, I am starting a newsletter.
Why the Hell Am I Doing This?
That's a great question. It could be related to being stuck in my house for the last four months with no end in sight. In all seriousness, for the last three years, my main job other than yelling into a microphone as a co-host of Pod Save America, has been writing my books (Yes We (Still) Can and UnTrumping America). When I finished my last book, I hit send on the manuscript and said "never doing that again." But I miss writing and specifically, I miss writing about politics in increments longer than 280 characters.
My goal is to provide analysis and insight for political junkies and practical strategic guidance for practitioners. My hope is that Message Box can be a useful tool for the folks on the frontlines of this campaign whether they are working on a race, running for office, or just fighting with their MAGA family on Facebook.
Message Box will look at the most recent polls, the biggest events, and the latest trends and pull back from the day to day punditry to explore how they are impacting American politics from the perspective of a practitioner. 
Why the Hell is it Called "Message Box?"
Well, I am pretty bad at naming things, but this isn't as weird as it sounds.
The Message Box is the most fundamental building block of any campaign. It was created decades ago by legendary political operative Paul Tully. It's a very simple - but critical - exercise to understand messaging.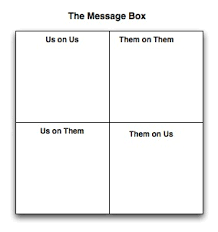 A good campaign runs every ad, speech, and Tweet through the message box. Politics is the art of persuasion. You have to know what to say, to whom to say it, and how to make sure they hear it. The rest is just noise.
Why the Hell Should You Subscribe
Well, only you can truly answer that question, but let me give it a shot.
For my entire career, I have been obsessed with two very related things: How to win elections and how people receive and communicate information. If you are interested in either (or both) of those two things, this newsletter is for you.
If you are obsessed with politics and communications and want to nerd out about how it all works, this newsletter is for you.
If you enjoy Pod Save America or either of my books, I think you will enjoy this newsletter.
Finally, I want to build a community to discuss all of this insanity and will be doing periodic mailbag issues where I answer your questions on anything and everything.
I hope you will consider subscribing.
If this sounds at all interesting to you, I would greatly appreciate it if you share Message Box with your network