Discover more from The Message Box
A newsletter about political and message strategy
Over 53,000 subscribers
Rallies vs. Responsibility
By taking COVID seriously, Biden and Harris are winning on the most important issue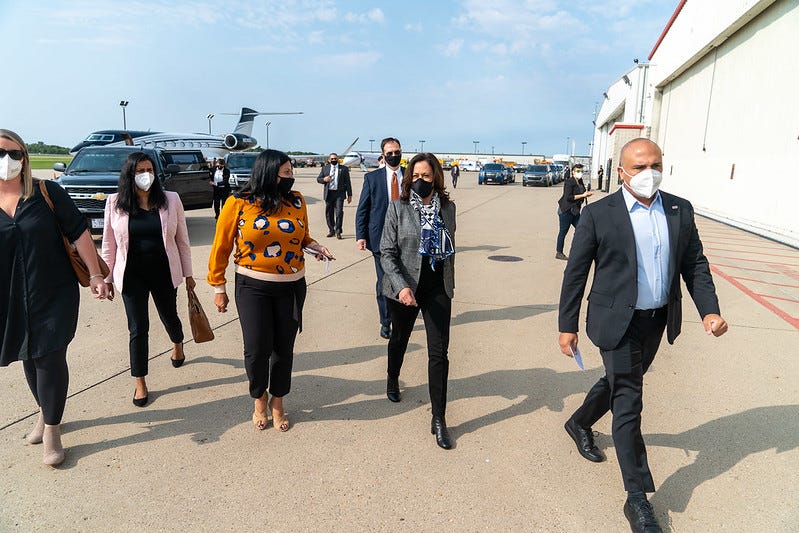 Democrats woke up on Thursday morning to some very concerning news. Kamala Harris was suspending her campaign travel, because two people in her orbit tested positive for COVID-19. This news was even more concerning for those of us in Obama-world, because one of the people that tested positive was Liz Allen, Harris's communication director, a former Obama aide, and friend (the other positive test was a member of the flight crew on the Harris campaign plane). What happened next embodied the Biden-Harris campaign's strategy, why it's working, and why Trump seems headed in the wrong direction.
In one sense, this election comes down to rallies versus responsibility and responsibility is winning.
Transparency + Responsibility > Secretive Stupidity
Ultimately, campaigns are about contrasts.
The core contrast in this campaign is about responsibility. Everything the Biden campaign does is designed to reinforce the idea that he takes the pandemic seriously and will succeed where Trump has failed miserably. This is why every time we see Biden and Harris, they are wearing their masks. Every event they do is very clearly socially distanced. No crowds. Lots of masks. This is the approach the campaign brought to yesterday's news about the positive tests.
The world knows about the positive tests, because the Biden campaign told us. Pulling the Vice Presidential nominee off the trail with less than three weeks to go is not a decision any campaign makes lightly. The voters that Biden most needs to excite are the ones most likely to be excited by Kamala Harris. But despite all the precautions taken to date, the Biden campaign had no choice but to do the right and responsible thing. Continuing to highlight their serious, responsible approach to COVID is much more strategically important than the very real political benefits of more campaign stops by Harris.
The statement released by the Biden campaign is thorough and transparent. It reads like a statement issued by government officials. Reading the statement would make any reasonable person feel better about Joe Biden and Kamala Harris in the White House. It details the timeline and the intensely careful protocols the campaign has in place to protect the candidates, the staff, the reporters who cover the campaign, and anyone and everyone that comes in contact with the campaign.
Compare that to how Trump responded to COVID spreading in his ranks. First, he tried to cover up Hope Hicks' positive test — we only know about it, because a reporter broke the news. Second, he did an entire interview with Sean Hannity without disclosing that he had already tested positive on an initial test. Third, once in the hospital, Trump's tax payer funded doctors hid key information about his medical condition. Finally, Trump returned to White House took off his mask on national television, walked into the White House and put dozens of his aides at risk. To this day, we have no idea when Trump's last negative test was prior to attending the debate. The White House has refused to answer this question for weeks — raising the possibility (and perhaps probability) that Trump lied to the debate commission and arrived at the debate infected with COVID.
Now fresh out of the hospital, Trump is back on the campaign trail holding mostly unmasked, non-socially distanced rallies often in contravention of the guidance put forward by local officials and Trump's own government. As the Center for Public Integrity reported yesterday:
President Donald Trump plans to hold a rally in Wisconsin Saturday despite his own White House Coronavirus Task Force telling the state this week that residents need to avoid "crowds in public and social gatherings in private" unless they want to cause "preventable deaths."
Trump and his allies view these rallies/super spreader events as evidence of strength and momentum. They relish the contrasting image of crowds cheering Trump with the purposefully sparse crowds at Biden events. Even some Democrats have expressed concerns about whether Biden's socially distanced events are reinforcing Trump's "Sleepy Joe" meme.
I don't know who is right and who is wrong. Sooner rather than later, the election will answer that question. But I know that the polling evidence and common sense show that Trump's approach is most likely doing more harm than good.
Hey Stupid, It's the Pandemic
The Republicans desperately want this election to be about something other than the pandemic that has killed more than 210,000 Americans in a matter of months. Hence, all of the ads and tweets about ANTIFA and crime and the harebrained schemes to smear Joe Biden through misinformation and "stolen" laptops. But all of these efforts have failed. The central issue in this election is — as it should be — the pandemic. Nothing Trump says or tweets will change that fact. According to polling from Navigator Research, concern about the pandemic is growing, not receding. The number of Americans that cite the pandemic as a top concern went up from late September to early October. It's notable that the 54 percent that consider Coronavirus a top concern is essentially the same as the percentage of Americans supporting Biden in the polling average as we enter the final stretch of the campaign.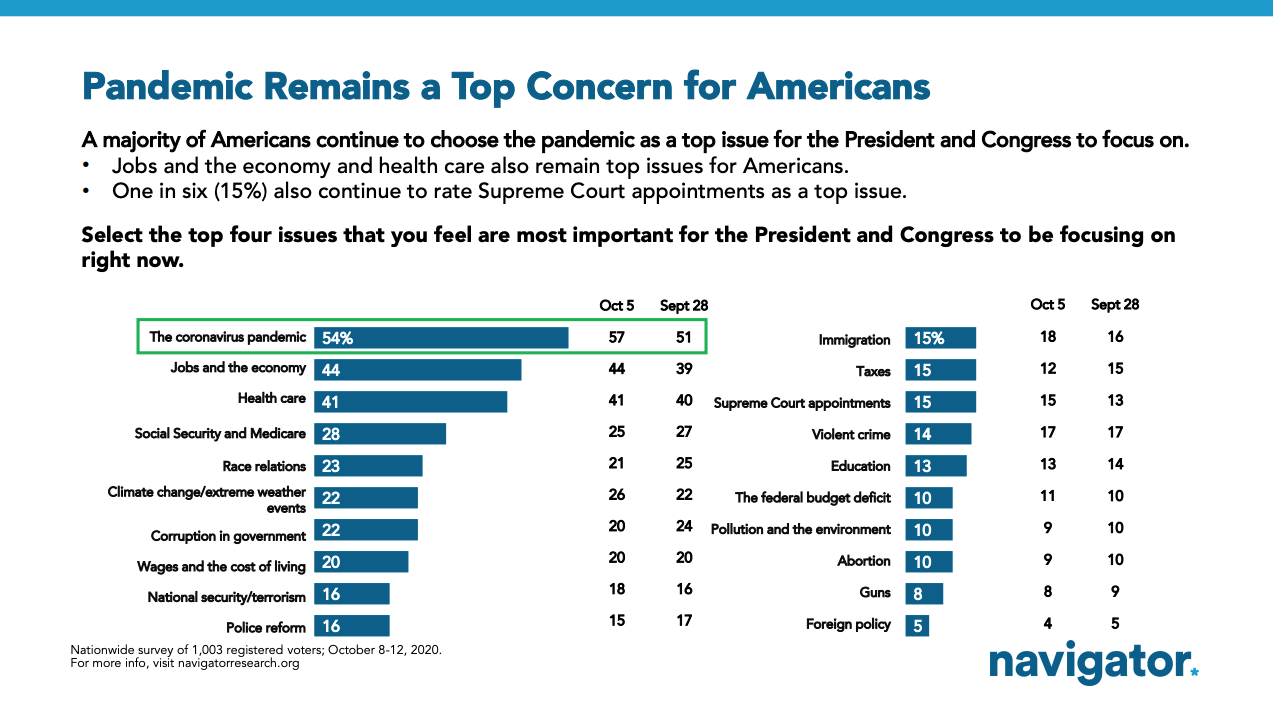 When Trump does talk about the pandemic, he argues for opening up more quickly and reducing the use of masks. This messaging puts him firmly on the wrong side of public opinion. Anecdotally, the images of unmasked Trump supporters gathering in crowds are very jarring to voters. For the vast majority of Americans, the Trump rallies look like something from a different era. We are all living in a world where you can't go into a the supermarket without a mask, where our children aren't visiting their grandparents, and every weekend we watch football games played in empty stadiums. Being less responsible than the NFL is quite a feat. The polling backs up this intuition. Navigator Research found that 61 percent — including one in four Republicans —believe that Trump is showing poor leadership by refusing to wear a mask or follow social distancing guidelines.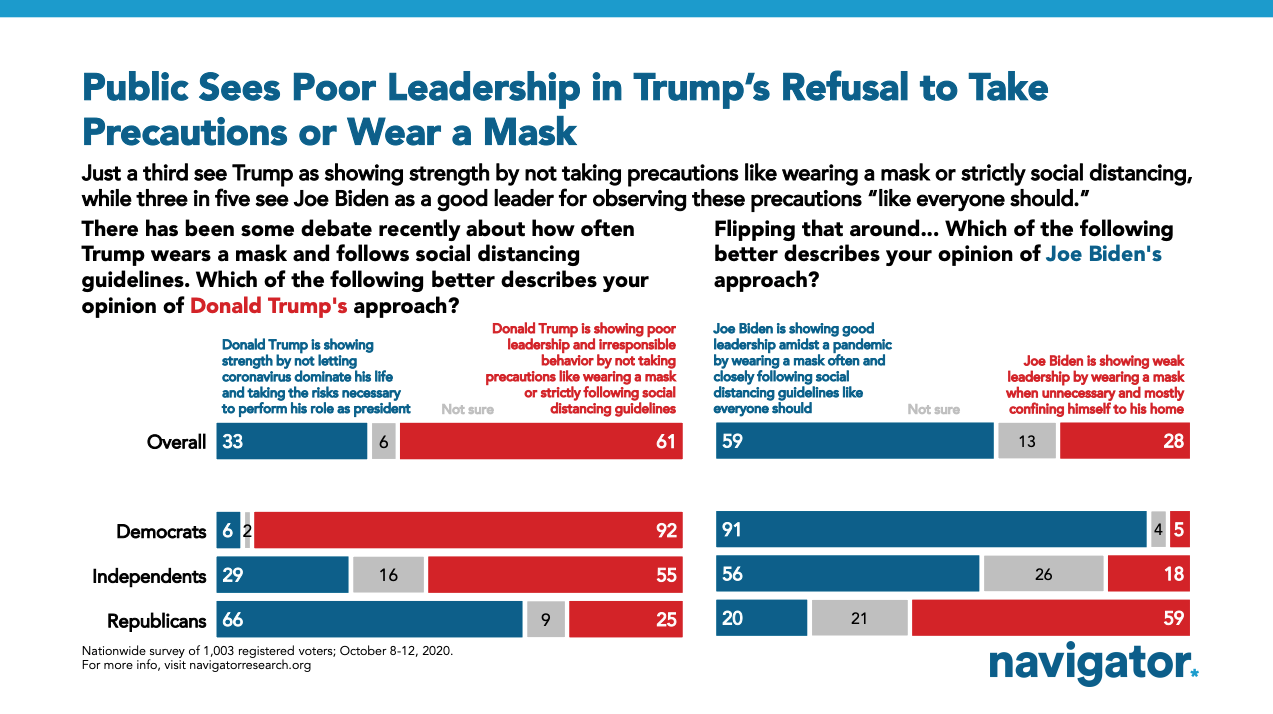 A SurveyUSA poll for WRAL-TV asked North Carolina voters whether Trump should hold in person rallies — 57 percent said he should not. I am no expert (despite the title of my YouTube series), but traveling to a state and generating massive amounts of media attention doing something that the majority of voters don't think you should do may not be a good strategy. Every Trump rally is a monument to the irresponsibility that voters cite as their number one reason not to reelect him.
Last night's dueling town halls once again laid bare the tremendous contrast between the candidates. Joe Biden talked about the importance of wearing masks and Donald Trump, once again, refused to endorse mask wearing despite the recommendation of every credible scientist on the planet.
Joe Biden, Kamala Harris, and their campaign are not being responsible because it's good politics. They are being responsible because they are serious people who understand that leaders have an obligation to model good behavior. In a pandemic, good behavior saves lives. After Trump's win in 2016, many political observers ridiculed the idea that doing the right thing was the right politics. Joe Biden and Kamala Harris might just prove them wrong.