Discover more from The Message Box
A newsletter about political and message strategy
Over 53,000 subscribers
New Poll: How to Fire up Young Voters
A Change Research poll offers a roadmap to increasing turnout among voters age 18-40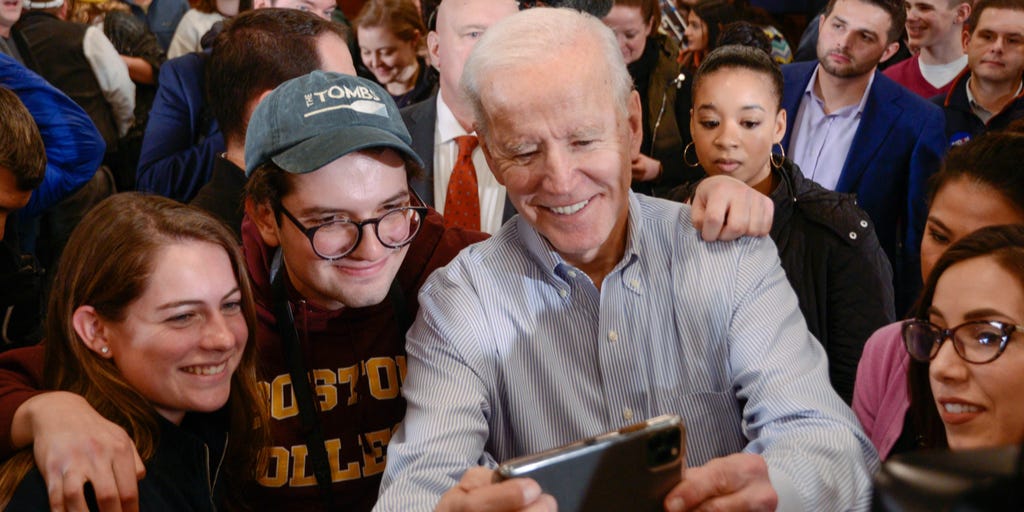 The 2020 election has the potential to be a transformational election that undoes the damage Trump has caused and positions the Democratic Party to repair our democracy and implement progressive policies for the next decade. That sort of victory is only possible if turnout among young voters is sky high all across the country.
A new poll from Change Research of young voters in battleground states offers some hopeful signs, some areas of real concern, and a roadmap for increasing turnout among this key group.
Change Research surveyed 935 registered likely 2020 voters 18-40 in Arizona, Florida, Georgia, Michigan, Minnesota, North Carolina, New Hampshire, Pennsylvania, Texas, and Wisconsin from October 3-7. This poll is part of a series of polls of young voters on which I have partnered with Change Research to offer advice and analysis. The results of the poll offer very actionable guidance for persuading young voters in your network.
Strong Foundation
Among voters age 18-40 in these battleground states, Joe Biden leads Donald Trump 58-32. This is an improvement over 2016, when according to exit polls, Clinton won the 18-29 cohort by approximately 55-36 and the 30-39 age group 51-39. Trump is doing significantly worse than in 2016 and Biden is getting a higher overall percentage of the vote in part because fewer young voters are choosing to vote for a third party candidate. In 2016, nine percent of voters 18-39 voted for someone other than Clinton and Trump. In this poll, only five percent of voters choose a third party candidate. This is a strong position for Biden to find himself in particularly after a lot of angst about his ability to appeal to the young voters that supported other candidates in the primary.
Mind the Enthusiasm Gap
Okay, enough with all the good news — we celebrate after winning, not before. The point of polls is to learn how to win in the end, not make us feel better right now about whether we will win. This is why I mention the comforting parts of the poll, but dwell on the concerning parts.
The poll asked voters how motivated they felt to vote in the Presidential race on a scale of one to ten. An impressive 80 percent if voters age 30 to 40 rate themselves between 8-10, but the there is a large drop off in enthusiasm among some critical elements of the Democratic coalition.
Only 53 percent of voters age 18-29 rate themselves between 8-10 and 58 percent of Latinx voters and only 42 percent of Black voters say the same. The enthusiasm gap between White voters and younger voters of color is very concerning to say the least. Given Biden's over performance with older voters, independents, and former Republicans, he has a path to win despite diminished turnout among these groups. However, that is not true for every Democrat — especially down ballot in the Senate, Congressional, and state legislative races we need to win in order to give a President Joe Biden the governing majority he needs.
The More You Know
There is some good news among these concerning enthusiasm numbers. The lack of motivation seems to be related to a lack of information about Biden and his positions on the issues they care most about. In other words, it's not that they know a lot about Biden and don't like him. Far from it. Instead, it's that they don't know enough about him to be excited. That's a problem that can be fixed.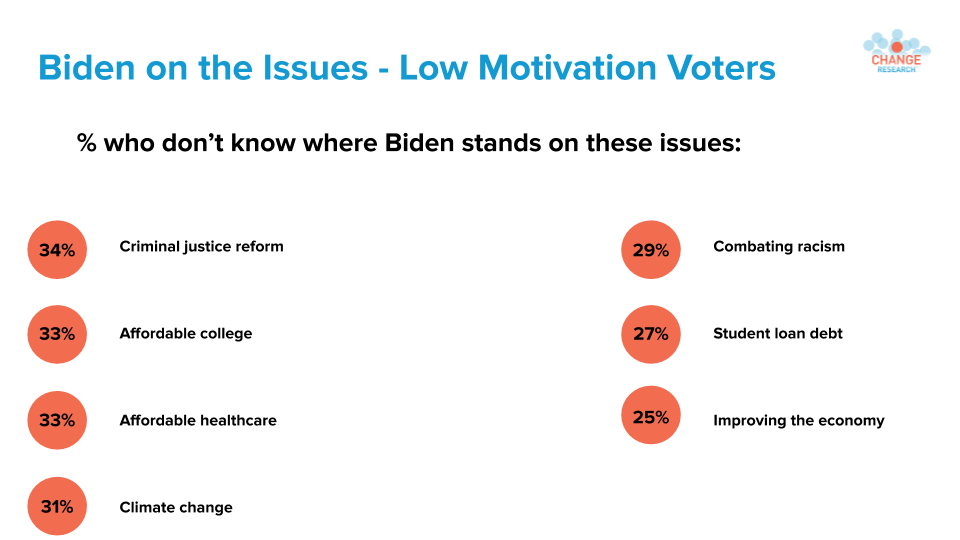 More than a third of the Independents and Democrats that report lower motivation (1-7 on the scale) don't know Biden's stances on criminal justice reform, making college more affordable, climate change, and health care.
The most exciting — and actionable — takeaway from this poll is that simply informing the less motivated voters about Biden's positions on these issues dramatically increases their enthusiasm to vote. We all know people in our lives who are skeptical about voting in general or voting for Biden in particular. We all have cousins, friends, and coworkers that we are nervous about whether they will actually take the steps necessary to vote in a pandemic. In order to find the best way to increase enthusiasm among the less motivated voters, we looked at which messages worked best with the voters that rated their enthusiasm somewhere between one and seven on our scale. Here are the best messages to increase enthusiasm:
Climate Change — Informing young voters about Biden's Climate Change plan is the single best way to increase enthusiasm for him. Forty-one percent of lower motivation voters, 59 percent of Black voters, and 57 percent of Latinx voters said they were much more excited to vote for Joe Biden after hearing the following message:

Joe Biden plans to make a historic investment to fight climate change and secure environmental justice by investing $2 trillion in clean energy infrastructure and jobs, paid for by rolling back the Trump tax cuts.

The Biden campaign recently launched an excellent ad about climate change that would be good to share with young voters you are trying to persuade to vote.
Criminal Justice Reform — Informing voters about Biden's criminal justice reform plans was another effective message. Thirty-five percent of the less motivated voters became much more excited to vote for Biden after hearing this message:

Joe Biden has committed to ending the federal government's use of for-profit prisons, restoring voting rights for former felons, decriminalizing marijuana, expanding mental health and substance abuse treatment, and creating a $20 billion grant program to support criminal justice reform at the state and local level.
COVID/Economy — Coronavirus is the top issue for young voters and 37 percent of lower motivation voters said they were much more excited to vote for Joe Biden after hearing this message about Biden's COVID plan:

As part of his coronavirus plan, Joe Biden will guarantee paid sick leave for workers, people caring for family members or loved ones, people who can't work because they are high-risk for COVID-19, parents and guardians of children whose schools are not open, gig economy workers, and independent contractors.
These are just some of the top issues, but informing these voters about any and all of Biden's positions was very effective at getting them more excited about Biden. The difference between a close race and the absolute thumping that Trump and every Republican deserves is increased turnout from young voters. The path is clear. The opportunity is there. We have three weeks to do the work.